Where To Hunt Hogs in PA?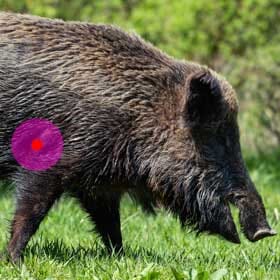 Hog Hunting Tip: Aim lower behind the shoulder than you would other big game. You will avoid the hard-to-penetrate armored area around the upper shoulders, usually hitting both lungs and possibly the heart for an instant kill. If your shot is a bit high, you will likely damage both shoulders, preventing a wounded boar from charging.
A high-caliber rifle is essential to penetrate a Russian Boar's thick hide. I cover recommended calibers further down on this page.
Very few wild hogs, or feral pigs, are found outside of the confines of hunting preserves in Pennsylvania in any county. That's why, if you want to enjoy hunting wild pigs in PA, you should book a guided hog hunt at a hunting preserve.
Now, there are several good hunting preserves in Pennsylvania that primarily offer spot and stalk pig hunts. However, Stonebridge is a top hunting preserve that stands out from the rest. Here's why.
Stonebridge hog hunts provide individual hunters and groups with an exciting, memorable, affordable, professionally guided spot and stalk hunting experience.
You'll be hunting the highest quality trophy hogs (European Russian Boar) and Feral Pigs on 400+ acres in the magnificent rolling hills of the Laurel Mountains in Somerset County, PA. Furthermore, you'll enjoy both the hunt and later eating the amazingly delicious Russian boar meat, considered a delicacy in Europe.
Our pigs are the healthiest in Pennsylvania and across the U.S. because we raise our Russian boar on-site and feed them all-natural feed, including grain, hay, grass, and NO antibiotics.
We also offer hunts for Feral Hogs (sometimes called Meat Hogs). While we do not raise our Feral Hogs, we get them from sustainable and ultra-reliable sources.

Affordable Hog Hunt Prices*
Trophy Boars Up to 150 lbs.: $ 595 Per Person
Super Trophy Boars 151 lbs. - 200 lbs.: $ 795 Per Person
X-Treme Trophy Boars 201 lbs. to 250 lbs.: $ 995 Per Person
Killer Trophy Boars: 251 lbs. to 300 lbs.: $ 1,195 Per Person
Monster Trophy Boars: 301 lbs. to 350 lbs.: $ 1,295 Per Person
Beast Trophy Boars: 351 lbs. to 400 lbs.+: $ 1,395 Per Person
Group Rate (5+) $ 50 Off Each Boar (Cash Only)
Lodging: $ 150 Per Person. Includes:
One Night Lodging;
Breakfast and Lunch; and
Free Catch and Release Fishing
A PA Hunting License and Tags are NOT required.
* Prices are subject to change. Call Us at 814-242-1454 or
Contact Us Online
to confirm prices and available hunt dates.
Hunt Hogs How and When You Want
Use your rifle, pistol, muzzleloader, crossbow, or compound bow.
We run boar hunts year-round and seven days a week, including Sundays.
Arrive on the day of your hunt or stay in our lodge.
What Caliber Rifle Do I Need for Hunting Pigs?
Hunting Russian Boar safely requires a powerful caliber firearm. That's because Russian boar are among the most dangerous animals to hunt. Here's why.
Russian Boars:
have sharp tusks up to five inches long;
are built like a tank, having tough protective cartilage over their rib cage that smaller calibers may not penetrate;
are extremely intelligent and unpredictable;
may attack anything the Boar sees when wounded.
So you want to use your biggest caliber weapon to maximize the probability of taking it down when you hit it. Here are a few suggested Calibers for Boar Hunting include:
.308 Winchester
.300 Winchester Magnum
.30-06 Springfield
If you don't see your caliber listed, please call us to determine its suitability for boar hunting.
Awesome Hog Hunting in PA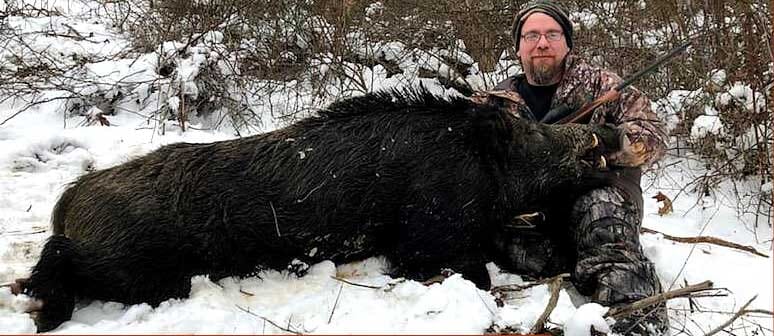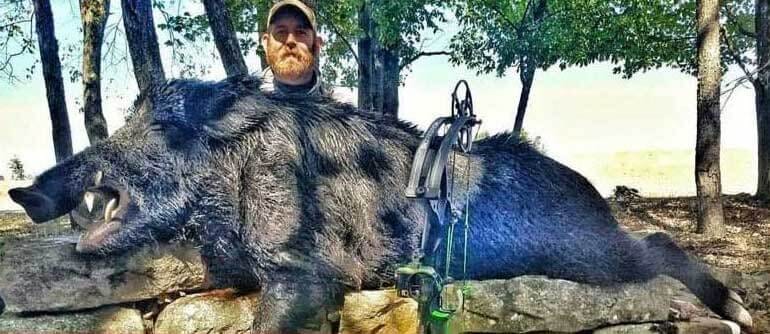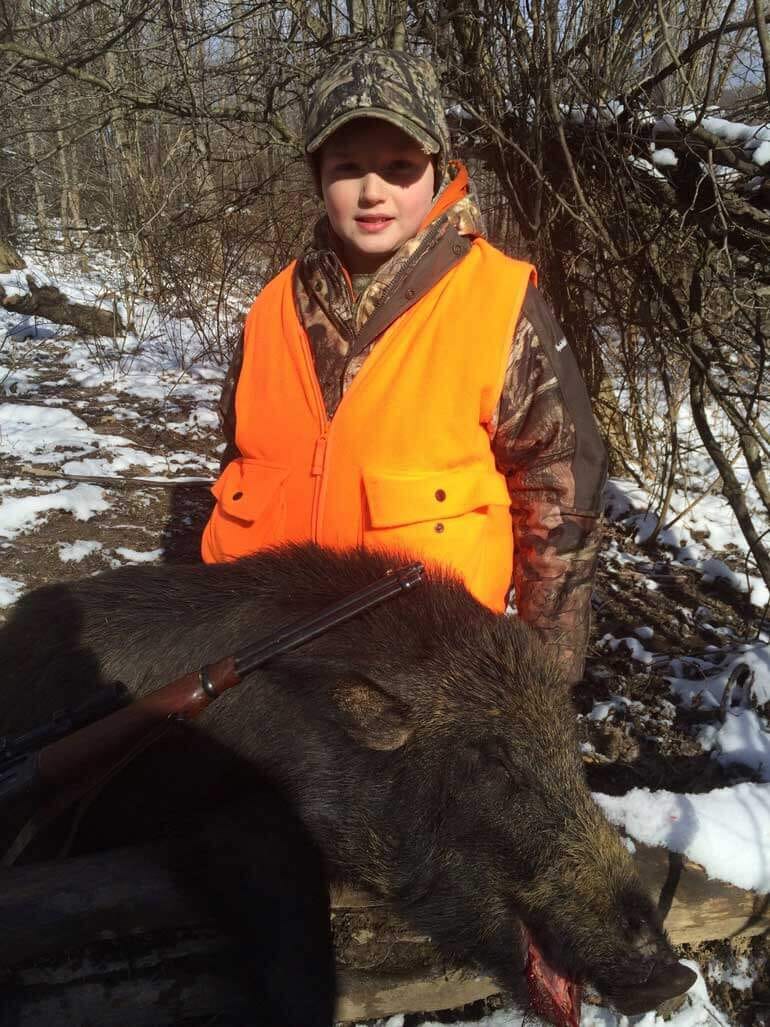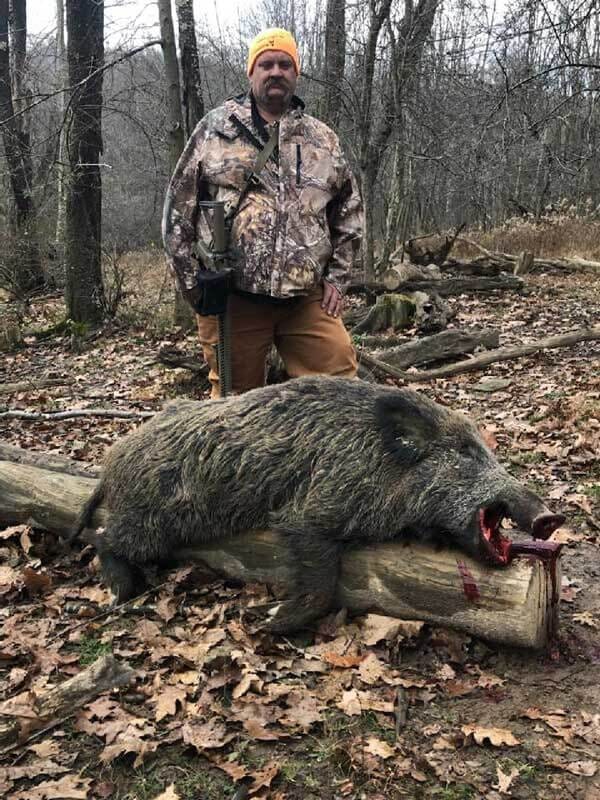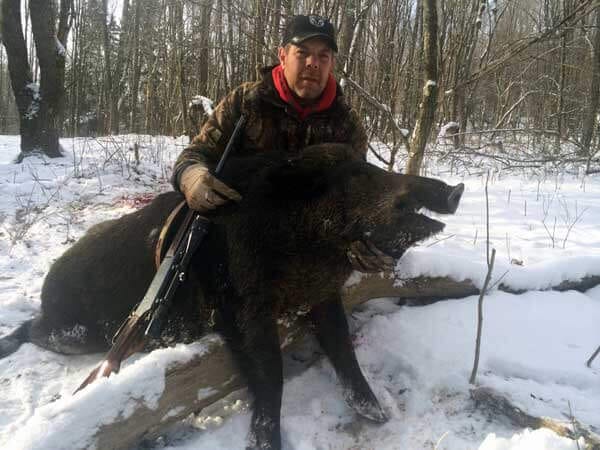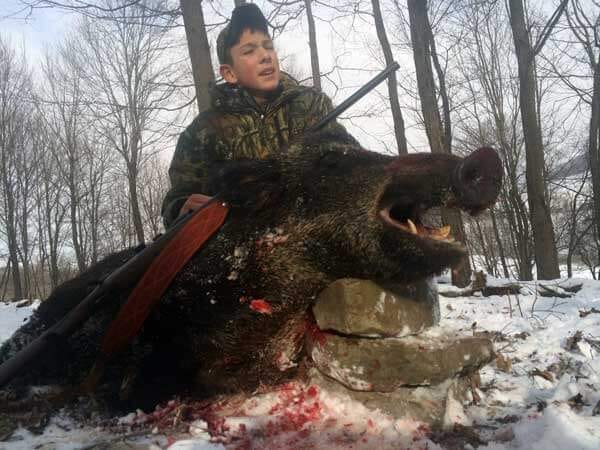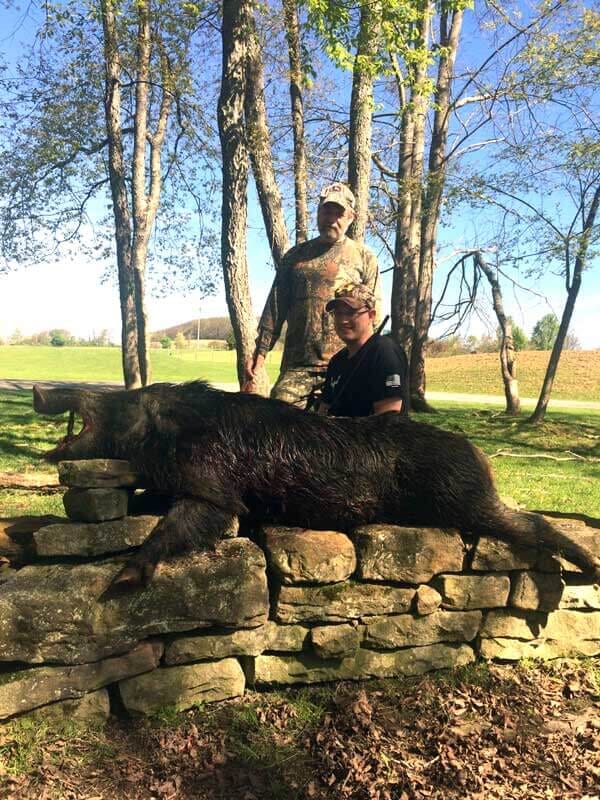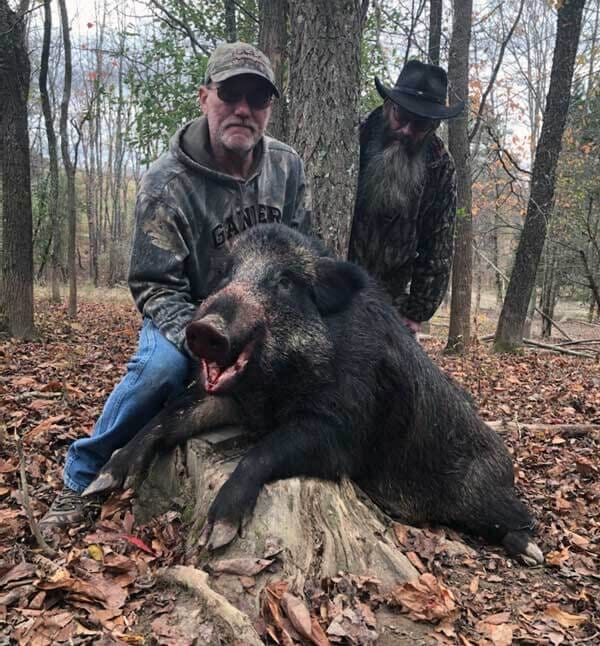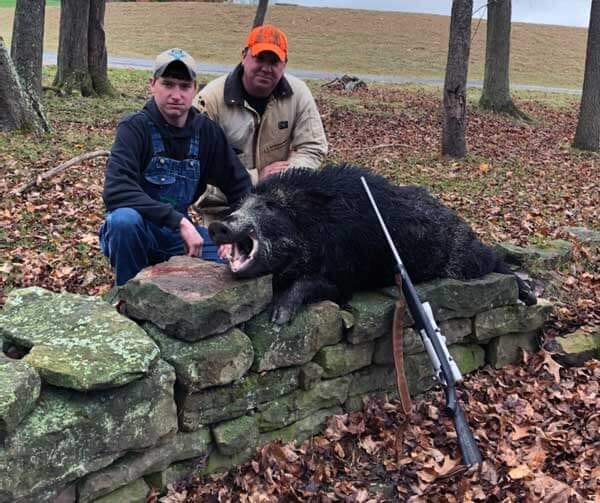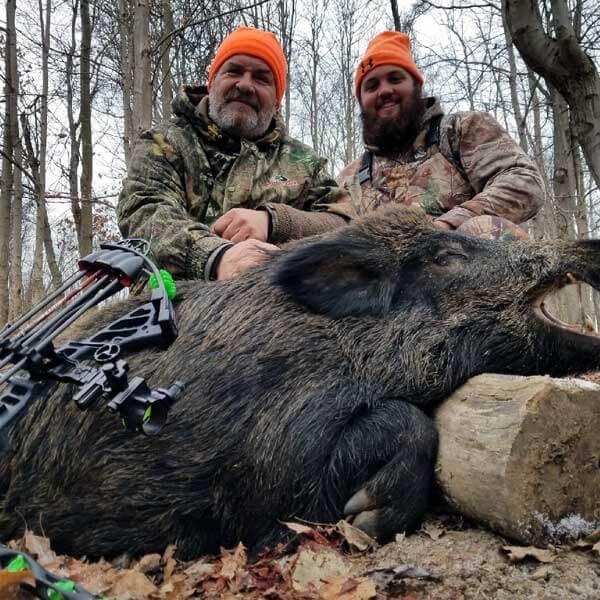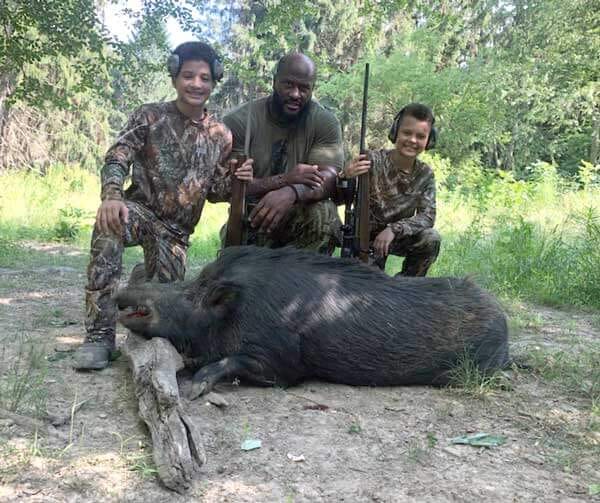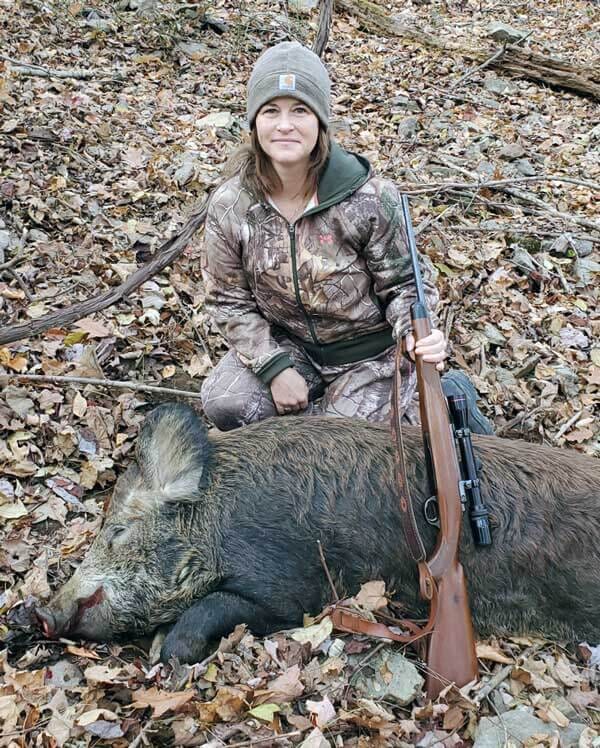 Hogs prefer wooded areas, especially with a flowing stream, making the Stonebridge Hunting Preserve the perfect habitat. It's a great place to hunt pigs because it's a beautiful, well-kept property with scenic rolling hills and beautiful views. Let the excitement and memories begin by booking your hog hunt of a lifetime today! Call Us at
814-242-1454
or
Contact Us Online
.
Description of a Stonebridge Preserve Guided Hog Hunt
If you're a guest(s) at our lodge, we will serve you breakfast before starting the hunt. For those of you not staying at our lodge, you'll meet at the Stonebridge front gate, usually around dawn. Just give us a call when you get there.
Before heading out, your guide will explain some basic safety rules, check your equipment, and answer any preliminary questions about hunting hogs. There will be up to three hunters for a guide, few enough to ensure you get the personalized attention you deserve for a perfect hunting experience.
Proceeding to the appropriate hunting area is usually done on foot to avoid spooking the hogs. However, we will use ATVs to transport hunters with special needs, and transport harvested pigs.
What Should I Pack for a Hog Hunt?
In addition to your weapon of choice and ammunition, consider packing

camouflage clothing
(While not mandatory, camouflage clothing will most often allow you to get closer to your trophy pig for the perfect shot.);
a raincoat;
binoculars;
a range finder;
and snacks.
For those of you staying at our lodge,

bring personal toiletries (a toothbrush, toothpaste, soap, shampoo, etc.) We provide linens and towels;
a cooler.
Stonebridge Has An Amazing Hunting Lodge
To be the Top Hunting Preserve in PA you need an incredibly beautiful and comfortable lodge. Watch the video above.
Why Would You Book a Hog Hunt Anywhere Else?
So, you'll hunt...
for incredible, highest-quality, and healthy pigs;
on an immaculate, incredibly well-maintained hunting preserve in the beautiful, relaxing Laurel Mountains in Pennsylvania;
with and learning from an experienced, professional guide;
with outgoing, friendly people who share your love for hunting;
having butchering and taxidermy services available to you;
having the option of staying in a comfortable, top-quality hunting lodge;
while enjoying Bob and Gina's incredible cooking; and
while getting all the above benefits at affordable prices that are competitive, or better than, our competitions'.